Emily - born at 27 weeks
Pregnancy and Birth
I was having a weekend away at a holiday house in Venus Bay with my husband Paul and our 2 year old son Tobey. It was an unusually hot weekend for March and we had fans going all day and the windows wide open all night. I was laying in bed around 4am, unable to sleep with busy thoughts running through my head, when I felt a gushing sensation and went to the bathroom to find that – unmistakably – my waters had broken.
We scrambled for the phone and the Yellow Pages and made our way first to Leongatha hospital, Tobey chattering away and eating Hot Cross Buns on the way. This small country-town hospital was darkened and a kind lone nurse let us in, agreed that my waters had gone – completely, and gently suggested that my baby may need to be born and that we should continue on to a hospital with appropriate facilities.
This took us to Monash Hospital, which has a NICU section, and I was promptly sent to a Delivery Suite. Here it was established that more information was needed to determine whether my baby should be born today or at a later date, and I was admitted as a patient in the Jessie McPherson section of the hospital. Over the next 48 hours I had blood tests, ultrasounds, and two doses of Steroid injections which would dramatically assist Emily's lungs should she need to be born – these were excruciatingly painful jabs in my bottom and thigh. While my blood test upon admission suggested no signs of infection, two days later my white cell information indicated infection had set in and an ultrasound showed my baby appearing listless within my now-dangerously unhealthy uterine environment.
With Foetal Compromise suspected, Emily was quickly delivered via emergency caesarian, at 27 weeks gestation. Upon being told that Emily needed to be born, I cried spontaneously and uncontrollably, and then shook so much I struggled to sign my name on the surgery consent form.
I was blessed to be allocated an incredibly adept obstetrician, Dr Danielle Wilkins, who conveyed calm and reassurance which alleviated the shock of the situation I had found myself in and allowed me to enjoy the sensation of becoming a mummy again while knowing that the medical care for me and my baby were absolutely optimum.
I was helped into a surgical gown and wheeled toward the delivery suite and met on the way by my husband running down the corridor to be with me. I felt so emotional that Paul had made it on time and could be there to hold my hand while Emily was born. My mum and sister arrived at the hospital also and waited anxiously outside the delivery suite. The operating theatre was large and it needed to be as two medical teams, one for Emily and one for myself, participated in the process.
The caesarian took around half an hour and during this time we were told that, if all was well, our baby could be held up for us to have a quick look. So we cried when Emily, weighing 1.174kgs, was held up at 11.26am for us to admire in a quick glance. She looked like a perfectly formed little baby, but tiny.
In the NICU
While I was being stitched and then in the recovery room, Paul and my mum and sister visited Emily as she lay on a special exposed warm bed in NICU Bay 8 where each baby had a constant bedside nurse and visits twice each day by a team of specialist doctors. It quickly became apparent that Bay 8 was where the most fragile babies were cared for, and that as their wellness improved, they would progress to Bay 7 and so on, and that Bay 1 meant readiness to go home.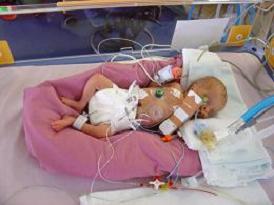 Emily began feeding exclusively on IV fluids in her first days of life (a serious infection in her digestive system known as necrotising enterocolitis thankfully cleared up completely with an IV course of antibiotics), then gradually commenced breastmilk, beginning with 1 mil every two hours. Emily's tiny body was struggling against infections in her first few days, which included pneumonia and sepsis.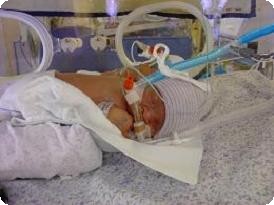 This picture shows Emily in her humidicrib with CPAP (Continuous Positive Air Pressure) attached. Emily's attempts to cry were completely silent early on. As Emily's lungs needed to be forced open to enable her to breathe at first, she developed Chronic Lung Disease. Emily's young lungs replenished themselves and were in good condition by the time she left hospital.
Kerry and Paul visited Emily every day to touch her, talk to her and sing to her. Emily was first allowed to be held at just over one week old, snuggled up in a heated blanket on mummy's lap, and a few days later daddy gave Emily her first kangaroo cuddle (skin-to-skin with baby huddled closely against the chest underneath their parent's clothing).
At two weeks old, Emily was transferred from Bay 8 to Bay 6 - signifying that she has reached a good point of stability. We were thrilled to hear a senior doctor comment to his team that "Emily is doing really well".
One of the nurses gave us the web address for "Austprem", which is a fantastic supportive group where we meet lots of other parents of prems on-line
A huge milestone was when Emily was able to have baths – she looked completely relaxed in the warm water while we washed her.
At about 5 weeks old, Emily began a weaning off CPAP and this proceeded successfully, with her completely off CPAP a few days later. She was then transferred to an Open Cot rather than Humidicrib, in Bay 5 (Special Care rather than NICU). At this point Emily's tube/gavage feeds were 26 mils EBM every 2 hours. I kept up a steady routine of expressing and storing breastmilk so that Emily always had plenty to feed her as well a good backlog of EBM for later in the freezer.
Also around 5 weeks old, Emily was able to start wearing clothing – beginning with clothes from a Pumpkin Patch range designed for dolls! Here is Emily wearing her first top. Her tiny nappies were especially made to fit premature babies, and her clothes were sized about 000000.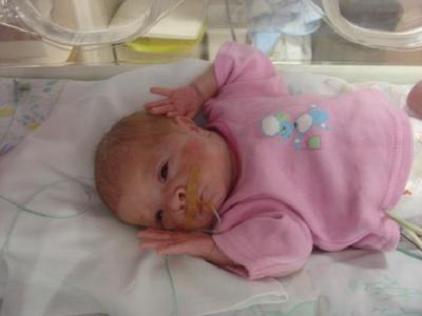 On the day Emily moved to Bay 5 Special Care, a nurse reminded me and Paul that being in Bay 5 denotes that Emily will be heading home soon. The nurses conveyed that Emily was doing very well; but having occasional oxygen de-saturations still (less often when laying on her tummy)
Notably, a heart valve which was open at birth (previously causing a heart murmur as well as anaemia resulting from insufficient haemoglobin levels) had resolved itself and was no longer symptomatic.
Planning then began for a transfer to Mitcham Hospital, a small local hospital where Emily could be close to home. We had a setback where Emily had a big brady on the day she was due to transfer, but eventually she moved to Mitcham as planned and we were able to see her a lot more often and proceed with breastfeeding more readily.
This photo was taken at Mitcham Hospital on the day Emily was due to be born. She came home 2 days later - June 12, 2005 (mummy's birthday!).
Emily breastfed relatively well (given her prematurity) but suction was inconsistent and we relied a lot on EBM bottles – at 4 and a half months old Emily's intake had become purely bottle-fed EBM and – having taken medication to boost my breastmilk supply and struggled on with expressing milk around the clock, I finally gave up trying to breastfeed Emily. It was a weight off mine and the entire family's shoulders when we switched to feeding Emily formula instead.
At 4 months old Emily was hospitalised with bronchiolitis, and at 8 months old she was hospitalised with croup, each time for a couple of days. It was explained to me that her airway is narrow due to her premature arrival and that her history of Chronic Lung Disease made her vulnerable, and hence her breathing became strained during these illnesses. Since the bouts of bronchiolitis and croup, Emily has been generally healthy and robust.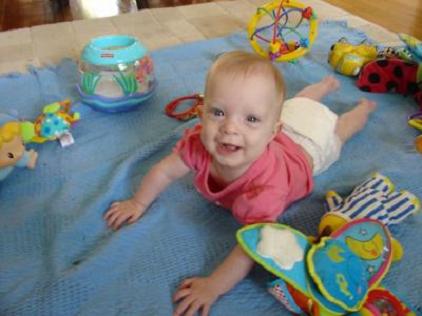 This is Emily at 6 months corrected (9 months actual). Emily impressed her paediatrician by meeting all her 6-month developmental milestones, many earlier than expected.
Emily began crawling at 8 months corrected (11 months actual) and began walking at 15 months corrected (18 months actual).
Below is a photo of our gorgeous Emily just after Christmas 2006, dressed up as a fairy and playing in her sandpit. As a family we spent 4 months in London in 2006 and Emily adapted quickly to this change of environment and absorbed so much from the experience.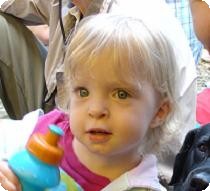 Emily is now 2 years old, and is a happy and socially confident child. She has enthusiastically participated in a range of activities with her peers including Gymbaroo, swimming lessons, Mother's Group, and occasional care.
We believe her resilient and strong nature partly stems from her prematurity, and we love everything about our beautiful girl.
©2007 Kerry Draffin