The Prem Journey | Austprem Ink | Resources and Links
During Pregnancy
Whilst many premature births occur quickly, for some there is a bit of time to get used to the idea. Multiple pregnancies and assisted fertility pregnancies have a higher risk of preterm birth, and some conditions that occur during a pregnancy may also lead a doctor to warn of a possible premature birth, giving you a little time to find out some information about what may happen to you and your baby.
Some of the more common causes of premature birth are:
Just click on any of the links for further information on these topics - including general information, links to websites and personal stories.
This information is intended as general background information only. Please check with your doctor or other health care provider for further and more specific information on how any condition affects you and/or your baby's health and before acting on any information presented here.
Please also read our disclaimer.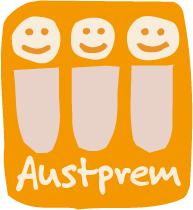 © Austprem Inc. All rights reserved
website: www.austprem.org.au
email: austprem@austprem.org.au
ABN 67 731 996 316